A shining example of service and dedication.
The success and sustainability of an entity depends on the efforts of individuals who have the capacity to learn and apply, care for the people they work with, and know the essence of duty and dedication.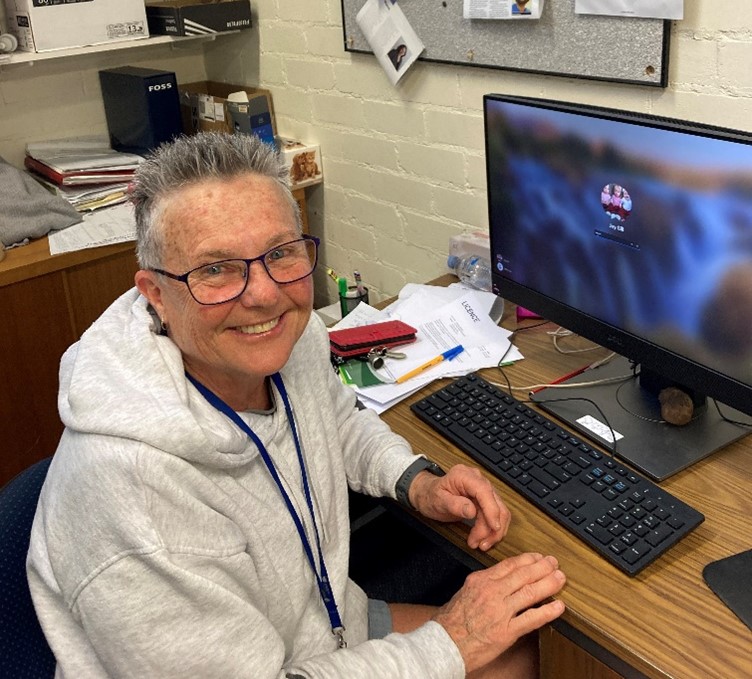 The ongoing success of the Poultry Research Foundation (PRF) and its 65 years of sustained service to the Australian poultry industry are due to many people. This article profiles one of those dedicated individuals, Mrs Joy Gill.
Joy joined the PRF in 1974 to work with Dr Charles Payne, the then Director of PRF. She worked tirelessly to become a skilled poultry technician and readily acquired the nuances of bird husbandry as the love of animals was in her blood. She also appreciated that properly caring for animals would help yield relevant and reliable scientific data. It was not long before Joy started to oversee experiments, manage day-to-day operations of the Poultry Research Unit, and carry out many laboratory procedures including energy determination and proximate analyses. Joy became an all-rounder in the Poultry Research Unit. With her many years of experience, came much corporate knowledge, and her know-how is invaluable in maintaining research consistency and in training new staff and students.
"When working, Joy takes the initiative, has great attention to detail and is not reluctant to raise difficult questions", said Professor Wayne Bryden, an alumnus and former Director of the PRF. "God knows how many now PhDs owe Joy so much for her guidance and there are some stellar examples", said Dr Peter Selle, a PRF alumnus. "Joy is and has been and will continue to be the very heart and soul of the PRF – indefatigable and indispensable!" Joy is in her 50th year with the PRF and if 3 students graduate per year just as a guess, Joy would have helped some 150 postgraduate students who are now academic and industry leaders all over the world.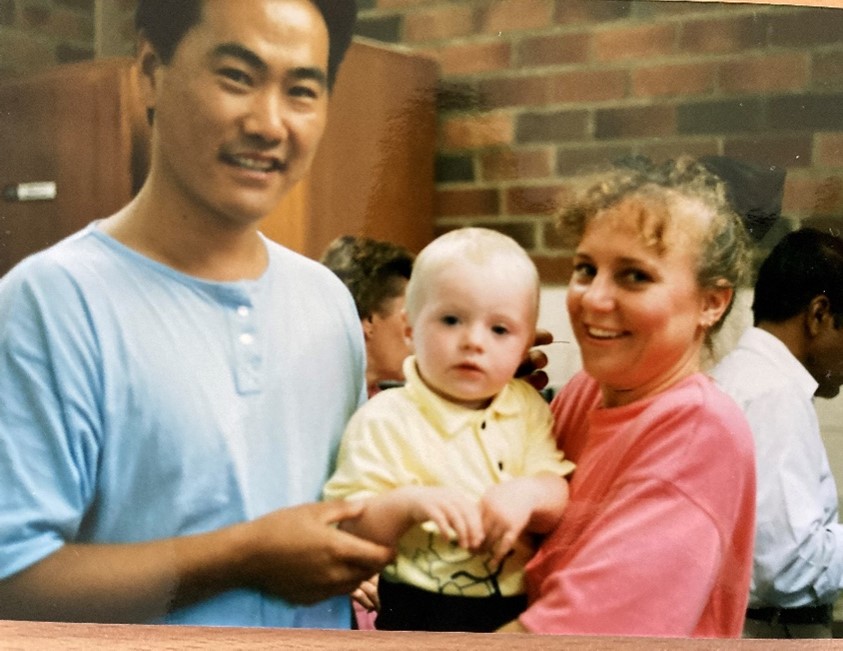 I did my PhD at PRF between 1988 and 1991 when I met Joy (Photo: Joy, her son Todd and me in 1988). I was proud to be a wrestler and a muscle man, but often felt exhausted trying to keep up with Joy in the feed shed or in the animal house. In fact, such experience is shared by many of the PRF alumni.
"I met Joy at the feed mill in 2011. Joy was covered with dust, running up and down and dragging bags and bins in and out. The only thing I could do was to stay out of the way! That is the start of a fun working relationship, Joy works hard, is motivated by challenges, itchy to try new things, but she will complain first, quite rightly, about the inadequacy of the university system or society at large. Then she will jump up and down to make it work", said Dr Sonia Liu.
Joy always puts in extra work when needed without asking for reward. She uses her experience and knowledge to help everyone and she is completely blind to race, religion and status. Coming back to PRF after a 32-year hiatus, I find that Joy's work ethic has not changed a bit. In another PRF alumnus, Dr Ha Truong's word, "our Joy has a life-time of knowledge and two life-times of energy".
I am writing this small piece to not just recognise Joy's stellar contribution to the poultry industry and to the lives of all PRF alumni, but also to celebrate something much bigger – a shining example of service and dedication!
Connect with us
Poultry Research Foundation on social media: