Stradling the Two Worlds of Poultry Nutrition
By Mingan Choct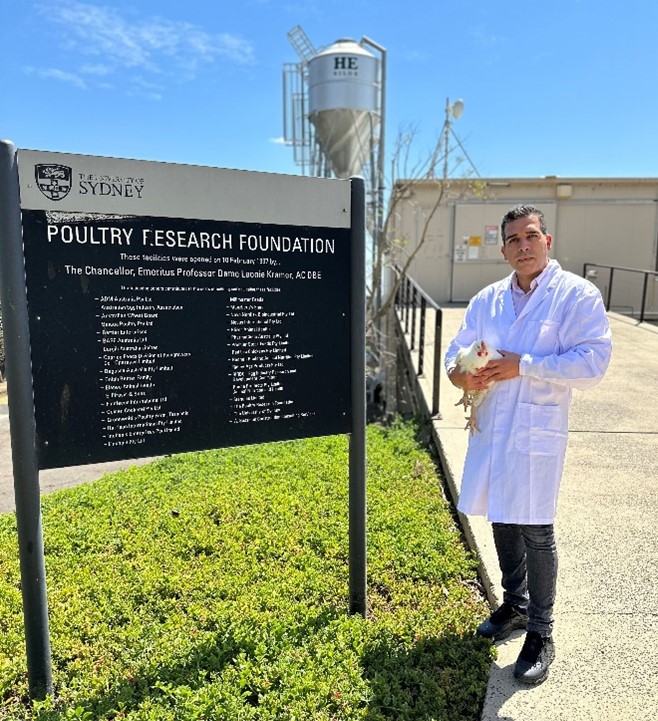 There is the adage – practice makes perfect. In the case of Dr Mehdi Toghyani, it is the perfect combination of commercial nutrition and nutrition science. Mehdi's practical knowledge of nutrition is of great value to the Poultry Research Foundation (PRF) as we strive for producing effective solutions for real-life problems of the poultry industry.
Dr Mehdi Toghyani is a PhD graduate from University of New England. Mehdi joined PRF in 2019, following completion of his PhD and a 3-year tenure as a postdoctoral researcher at University of New England. Mehdi has been educated as an animal scientist demonstrated by his tertiary qualifications with a BSc in animal science, and his MSc and PhD being specifically poultry science oriented.
Mehdi's research at PRF involves obtaining in-depth knowledge on the interactions between nutrition and physiology, which serve as links to profit maximisation, optimising feed formulation and improving sustainability outcome of poultry farming. Over the years, Mehdi has heavily been engaged in poultry research related to nutrition, gut health, dietary net and metabolizable energy assessment, digestive physiology, alternative feed ingredients, and assessing requirements of key nutrients for both meat chickens and layer hens. Being a dedicated poultry scientist, Mehdi has developed a good understanding of the practical limitations and implications of experiments involving poultry and how such factors may have direct consequences to the accuracy, validity, and scientific merit of the obtained data. This has helped him to disseminate his research output in a scientific manner for every research project by authoring and co-authoring over 70 peer-reviewed papers published in high profile journals and many national and international conference presentations over the past years. His latest research at PRF has been centred around meat chickens' response to diets nutrient density, particularly key nutrients such as energy and amino acids, in an attempt to maximize the protein accretion potential of the diet and feed efficiency, and to minimise nutrient runoff to the environment. Mehdi, as a poultry nutritionist, also consults to some of the biggest fully integrated layer and broiler chicken operations in Australia, giving him the opportunity to become familiar with the principles of poultry research both within the realm of academia and in commercial settings. Being at the forefront of the poultry industry, he is directly exposed to the ongoing challenges the industry is facing, and how to utilise research output and scientific solutions to address and mitigate such challenges. Having the privilege of working closely to the industry has helped him to remain very sensitive to the knowledge gap and highly demanded topics in the field that are also shaping the backbone of his research activities at PRF.
Latest news
Our events
APSS 2024

The Australian Poultry Science Symposium (APSS) is the premier avian science conference in Australia and attracts delegates from all across Australia and around the World. APSS 2024 will be the 35th edition of the symposium, which will again be held at the Sheraton Grand Hotel – Sydney Hyde Park.
Connect with us
Poultry Research Foundation on social media: